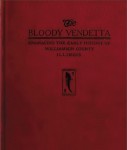 Anyone studying the history of Williamson County will find out quickly that your resources are slim. There are only a few books that were written to establish fairly comprehensive guides as to how things were back in the beginning.
One of those mainstays is a book written in 1876 by Milo Erwin. It was called "History of Williamson County, from the earliest times to the present, 1876, with an accurate account of the secession movement, ordinances, raids, etc. and includes a complete history of the Bloody Vendetta, including all its recondite causes, results, etc."
The book is now reprinted by the Williamson County Historical Society and available through them.
Legend for many years kept alive the story that the brilliant young Marion lawyer who wrote a history exposing many skeletons in the closets of prominent Willliamson County families had to flee the county for his own safety and had died in obscurity.
In 1952, Mrs. Nannie Grey Parks, then librarian at the Marion Carnegie Library, permitted Homer Butler to write an article for the Daily Republican on the story of her research into Milo Erwin.
Mrs. Parks established that Erwin lived in Marion for ten years after publication of his history which told the story of local feuding families in what Erwin called the "Bloody Vendetta". During those times he served two terms in the state legislature, once in 1880 and again in 1882. Two years after his second term expired he left Marion to practice law in Peoria. News of his departure was printed in a newspaper of that day, the Marion Monitor.
From the time of his departure, however, until his death in 1894, apparently few people if any in Marion knew his whereabouts.
The story of how he spent some of those years was revealed. He had changed his name and begun a new life in Forest City, Arkansas, the county seat of St. Francis County, Arkansas.
As a civil engineer he was twice elected county surveyor. He was active in masonic orders and was prominent among residents of the town who knew him as Mark Stanley.
His death on December 16, 1894 at the age of 47 was reported by the Forest City Times which said, "Mr. Stanley died quite suddenly and unexpectedly last Thursday. He was taken with a chill which seemed to yield to remedies. On Saturday morning he went into Henson's Restaurant for his meal when he was again taken ill and retired to a bedroom in the rear. Nobody seemed to realize how ill he was until Sunday morning when he was found in an unconscious condition."
A letter found on the dead man's person revealed his true identity and the address of his father, R.P. Erwin. The father was notified and returned the body to Williamson County where it lies buried in Mount Pleasant cemetery.
Why a man who was successful at life would change his identity and start a new life is a mystery that we will likely never have an answer to.
(Extracted from a Glances at Life article by Homer Butler, republished in the 1970's)