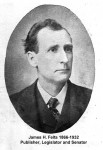 James Hugh Felts was born February 1, 1866, in Williamson County, Illinois. He was the son of Martin V. Felts and Rebecca Lucky. His father was a veteran horticulturist and apple man of Southern Illinois.
Reared on the homestead farm about five miles north of Marion in Lake Creek Township, he took the usual routine of our country schools, ending with a term at the Crab Orchard Academy and one at Ewing College.
In 1898, he bought a half interest in the Johnson City Progress, and entered the newspaper ranks, with Richard W. Jones as his partner, which lasted until 1901 when he moved to Marion to work.
He was married December 28th, 1898, to Miss Minnie E. Chamness, daughter of Marshall E. Chamness, of Marion. Marshall Chamness was among the first trustees when Creal Springs Seminary was chartered as a college.
In January 1903, he joined forces with Samuel K. Casey by buying Walter Williams' interest, in the Egyptian Press Printing Company at 1000 Public Square, which published the Marion Evening Post (daily paper), the Egyptian Press (semi-weekly paper), and the Illinois Baptist at Marion.
Casey and Felts established the Marion Evening Post in March 1902. The Egyptian Press was established in 1872.
In 1907, Casey and Felts built the Post and Press building at 100 S. Franklin Avenue, only 100 feet south of the 1000 Public Square buildings.
The Egyptian Press Company was one of the best equipped offices in Southern Illinois and occupied its own building. The plant was equipped with linotype, intertype, and a two revolution book and news press.
During WWI the papers owned by them have done thousands of dollars' worth of free work in the various activities, publishing free advertising and making large contributions in a financial way. Their policy has always been to give the best service and treat everybody fairly.
James H. Felts was publisher of the Illinois Baptist Newspaper when it was published in Marion, Illinois. The subscriptions were $1.50 a year. The Illinois Baptist was published by him from its beginning, in cooperation with William P. Throgmorton who entered the Baptist service at Pleasant Hill Church. Felts edited and published the minutes of county and state Baptist associations for thirty years and also served as trustee of Ewing College.
Felts wife, Minnie, was also active in church work and the publishing field.
In 1904, Felts ran unsuccessfully for County Circuit Clerk.
In the 1910 census, James was 44 and Minnie was 37. They were living at 1216 N. Glendale Street. He was listed as an editor.
Mr. Felts was a Democrat and served two terms as representative in the forty ninth and fiftieth general assemblies in 1915 and 1917.
In the 1920 census, the couple is still living on Glendale Street and now have his widowed mother Rebecca Felts, aged 75 living with them. His father Martin had died in 1909.
Felts served as a state senator in the fifty sixth and fifty seventh general assembly's 1929-1931.
Around 1925, Felts served as Vice President for the Citizens Trust and Savings Bank located in the Goodall Hotel where City Hall is now located.
James served as a city commissioner in the period of 1927 through 1931 under Mayor E.M. Thurmond.
The 1930 census, finds the couple still at 1216 N. Glendale. James is now 65 and Minnie is 57, he is still listed as a publisher and actively working at the paper and as a senator at this time. They own their home and value it at $3,500.
Felts was an elder and Deacon of the First Baptist church of Marion, and its Clerk for thirty years. He was also a member of the Williamson County Baptist Missionary Association. He served as a Deacon and Treasurer of that county mission board for thirty five years.
In 1931, Felts suffered illnesses, but not enough to keep him from rising from his sick bed to drive to Springfield, Illinois to vote against the repeal of the Illinois Prohibition laws.
James Felts passed away on January 12, 1932 and is interred at Rose Hill Cemetery. No record of his wife Minnie's death was found and the couple didn't have any children.
(Photo and some data from 1905 Souvenir History, WCHS; Federal Census Records, Marion City Cemetery Records; Pioneer Folks and Places by Barbara Barr Hubbs, Williamson County in the War; compiled by Sam Lattuca on 06/15/2013)