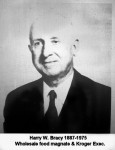 Harry Willis Bracy was born in Marion on September 16, 1887, the son of Abner E. Bracy and Florence Crain.  His father, who was a Marion merchant for many years, died in 1935 and his mother died in 1961.
In the 1900 census, Harry, aged 12, was living with his parental family in their home at 604 S. Market Street. His father was a merchant that operated a retail store on the square. His siblings were, Charles Bracy aged 14, Reba 10, Leon 8 and Ralph 4.
Around 1910, Harry married Maude Duncan and they occupied a home at 607 S. Market Street. Harry listed his occupation as traveling salesman for fruit and produce. The following year, in 1911, their first and only child was born, a daughter named Virginia Bracy.
The Marion native's spectacular career in the operation of food market chains sprang from a wholesale grocery and produce business which he started as a young man. In 1916, he operated the Bracy Fruit & Produce Co. which he expanded in 1921 under the name of H.W. Bracy & Company.
At the same time he was engaged in the theatre business. In 1917, he owned the Family Theatre, 300 N. Market Street, a movie house at the corner of North Market and West Jefferson Streets, and operated the  Marion Opera House, 400 N. Market Street; a movie and stage theatre a block north.
That year he purchased a lease on the Roland Theatre at the corner of North Madison and East Union Streets. He soon afterwards disposed of the Opera House and in 1920 sold the Family Theatre and his interest in the Roland to his manager, the late Verner Hicks.
In June of 1917 when Harry registered for the WWI draft, he indicated his age as 29. He was married with one 6 year old child. His occupation was owner of motion picture show and traveling salesman for Bracy Supply Company. He was living at 607 N. Market Street. His physical description was tall, medium build, brown eyes and light brown hair.
By the census of 1920, Harry, now 32 and Florence, 28 were living in a home that they owned free of mortgage at 603 S. Market Street. Their daughter Virginia was then 9 and Harry listed his occupation as owner of a wholesale produce house.
With the growth of food store chains, Bracy converted his wholesale business to a chain operation in the 1920's by opening two retail outlets in Marion under the name of Thrift Stores.
A 1927 Marion City Directory, listed Harry, Maude and Virginia at their home at 603 S. Market. His parents, Abner and Florence, were still living at 604 and his brother Charles and his wife Nellie were living at 601 S. Market. Harry was listed as owner of H.W. Bracy & Company, 704 W. Main St. and his brother Charles was listed as President of Bracy Supply Company located at 513-515 N. Market, next to the flour mills then called the Marion Flour Mills which was operated by Bracy Supply Co. where they produced flour under the Bracy name brand.
In January 1928, he opened his warehouse at 704 West Main Street for the sale of groceries at retail. This building was later bought by Earl Blankenship in 1937 and became the home of E. Blankenship Auto Parts who had been operating across the street at the time.
The same year, 1928, he moved his headquarters to Herrin to serve an expanding chain of retail stores. In March 1929, he bought the rival C.L. Limerick food chain of 18 stores. In July of that year, he sold his Thrift Store chain of 46 grocery stores and 19 meat markets in 36 southern Illinois cities to the Kroger Grocery and Bakery Co. At the time, the Thrift Stores did an annual business of $3 million dollars.
Eight months later he became district manager of Kroger stores with headquarters in Carbondale, and under his management the number of stores in the district was increased to 120.
In 1929, Harry and Maude moved into a large, spacious home at 1010 N. Market. This location is reflected in the federal census taken on April 4, 1930. Harry, was then aged 42 and Maude 38, and the couple have recently witnessed the marriage of their only child Virginia, 19, to a young, local lawyer named Harry Melvin aged 26. The newly married couple was living in the home. In addition, the house had a live in housekeeper named Mary Jones, a 28 year old female. The house is valued at $15,000, which is likely what the purchase price was.
Not long after moving into their large new home on N. Market Street, Harry and Maude divorced. Maude continued living at 1010 N. Market Street, while Harry being much more frugal would find lodging at the Hotel Roberts in Carbondale, Illinois where he worked.
On March 2, 1935, while Amelia Earhart, the famous female aviator, was visiting Marion, she was entertained in the home of Mrs. H. W. Bracy on North Market Street. In the same year, Harry's father, Abner, died.
Newspaper reports in 1939 and 1940 listed Bracy as one of the 10 highest salaried men in the United States. A report to the Securities and Exchange Commission showed that he received $300,000 under his contract with the Kroger Company in 1941. That was almost four times as much as the $100,000 received by the Kroger board chairman, according to the report which showed the President received $72,308 that year.
The 1940 census confirmed that Harry was still living at the Hotel Roberts as a lodger in Carbondale. He was then 52 years old and indicated that he was a manager of a chain store (Kroger). He listed his education level as two years of high school, no college.
In April of 1942, when Harry registered for the WWII draft, he was back in Marion living with his widowed mother Florence in the parental home at 604 S. Market Street. He indicated his employment as Kroger Grocery Baking Company at 610 N. Illinois Ave. in Carbondale. His physical description was 5'10 ½ "tall, 190 lbs., brown eyes, brown hair and light complexion. He listed his mother, Florence, as his contact person.
His contract with Kroger expired Jan. 1, 1947, and he left the company. Later he started another grocery chain under the name of the Bracy Food Stores with headquarters at Benton. He built the new chain into an organization of 20 outlets, managed from headquarters which he moved to Marion in 1962, one year after his mother died.
In April of that year he opened the new Bracy warehouse at the western edge of Marion, constructed at a reported cost of $400,000. The opening of the Bracy warehouse was attended by 2000 persons, including the governor of the state. The warehouse still exists today and is located on Fourth Street behind the Motel Marion, which is probably why Harry lived on West Main next to the motel.
The man who had been the city's outstanding business man for many years began to fall ill in 1970. With the progression of Mr. Bracy's illness following a series of strokes, the food store chain was liquidated and the warehouse leased to the Funk Seed Co. located on a nine-acre tract, it was, at the time, one of the largest business installations in the town its builder always called home
Built when its founder was long past the age when most men retire, it was symbolic of the energy and vision that marked his long and successful career. His brother-in-law, Fred Lough, recalled that early in his business career. Bracy was known as the No. 2 banana broker in the nation, inspecting carloads of the fruit in railroad yards at Mounds before it was shipped throughout the Midwest.
Fred Lough, who married Harry's sister Reba, was a member of the Lough construction family that was responsible for many of the city, county and states early paving projects, including the bricks laid on S. Market Street in 1909 and many of the early city sidewalks. Fred and Reba lived at 307 S. Market Street.
Harry W. Bracy, who founded two food store chains during a career which he began in Marion as a salesman at the age of 18, and once managed the Kroger Company's Southern Illinois division, died at 7:15 a.m. Sunday, July 13, 1975.
Death occurred in Marion Memorial Hospital, opened as a municipal hospital in 1953 as the culmination of a movement which he started in 1950 by donating $20,000 to the Illinois State Baptist Association to build a hospital in Marion. The money was turned over to a local hospital fund when the Baptists withdrew their plans, and Marion citizens voted to build a city hospital.
When Harry died, he had been living in a modest home at 2000 West Main Street, just on the east side of the Motel Marion. (The house was demolished at the end of August in 2013).
He was survived by one daughter, Mrs. John B. (Virginia) Cline, Marion, three grandchildren, Mrs. Gene (Shirley) Cox and Harry B. Melvin, both of Marion, and Arthur F. Melvin, Dallas, Texas, five great grandchildren and one sister, Mrs. Fred (Reba) Lough, Marion.
He was preceded in death by three brothers, Ralph, Charles and Leon.
Funeral services were held Tuesday, the 16th, at 3:30 p.m. at Wilson Funeral Home by the Rev. Everett Lynch. Burial was in Rose Hill cemetery.
 In 1980 the City of Marion purchased the property at 507 West Main Street that was originally a Bracy Food Store and later housed an automobile dealership and converted the property into the Senior Citizens Center.
Maude Bracy, born November 23, 1891, passed away in June 1987. According to her S.S. death record, her last residence was Creal Springs, Illinois.
Sam's Notes:
Virginia Bracy Melvin, was born in 1911. She married Arthur Melvin, a local attorney, in 1930. They had three children; Shirley, Harry and Jasper Melvin. In the 1940 census, Virginia, 29, and Arthur, 37, were living at 1414 W. Main Street. Arthur was listed as an attorney. Children present were Shirley 9, and Harry was 4. Arthur died in 1967 and Virginia remarried to John Cline. Virginia Cline died in June 1994.
Shirley Melvin, born 1931, married Gene Cox and they lived at 502 S. Market. Gene owned/managed the Cox Hardware and Furniture store on the square. Gene Cox died in 2009.
Harry Bracy Melvin was born, January 3, 1933. He married Guiola S. Smith on February 28, 1955, she was born Sept. 30, 1933 and they had two sons named Harry B. Melvin II and James B. (Jay) Melvin. Guiola died on April 5, 2009. They couple resided at 1605 Carol Drive in Marion. Harry worked for Bracy Foods Co. He passed away at 2:38 p.m. Wednesday, October 9, 2013 in Heartland Regional Medical Center in Marion. He was survived by two sons, Harry B. Melvin II and James (Jay) B. Melvin both of Marion, Illinois; granddaughter, Melissa Melvin of Marion, Illinois; grandson, James B. Melvin II of Marion, Illinois, eight great-grandchildren; brother,
Jasper Melvin of Houston, Texas
Jasper Melvin, born around 1948, graduated Marion High School Class of 1966. Last known to be living in Houston, Texas.
(Data extracted from Marion Daily Republican Obits; Glimpses at Life by Homer Butler; Federal Census Records; Social Security Death Records; Marion City Cemetery Records; Marion City Directories; compiled by Sam Lattuca on 09/04/2013)