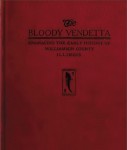 Milo Erwin was 29 years old when he wrote "The History of Williamson County, Illinois" in 1876. Our country was 100 years old and Williamson County was 37 years old. The Bloody Vendetta was scarcely over and many wounds, no doubt, were fresh. His book had 283 pages and only 123 were used to tell that story; the remaining pages told the history of our county from formation to 1876. Many pages were used to tell of his admiration of the hardy stock that settled here and shaped the history of Williamson County.
The book recounts the early history and formation of Williamson County including early pioneer names, how and where they lived and what they believed. It also tells us of Native Americans, witchcraft, crimes, organizations, hunting, agriculture, mills and much more. All this information was recorded less than four decades after the formation of the county and serves as a treasure hoard of data for historical and genealogical researchers.
On February 1, 1877, the Egyptian Press and Marion Monitor both advertised the clothbound book for sale at $1. Ten thousand copies were printed to be sold in stores around the county. However, many copies never reached the hands of the readers because of a fire that swept through the office of Judge George W. Young on the square, where they were stored.
A Herrin newspaper editor, Hal Trovillion, estimated in 1914 that there were fewer than a dozen copies of the original in existence. I personally know of one instance where a woman had one passed down to her. It had the names of her family members cut out of it. By 1914, some of the wounds had healed, but not all. Hal Trovillion reprinted Erwin's history without too much opposition that year and he called it "The Bloody Vendetta."
Ten years after the publication of this book, Erwin mysteriously left town, changed his name to Mark Stanley and covertly moved to Arkansas to live out his life. For more details on this aspect of his life see the post, "The Mysterious End of Milo Erwin."
This book is available in reprint from the Williamson County Historical Society book store located in the old county jail on S. Van Buren Street in Marion.
The link below will open a link to the PDF version of this book for viewing and optionally downloading to your computer. Please allow time for the document to load in your browser or PDF viewer. Adobe Reader may be required depending on your computer's setup.
The History of Williamson County, by Milo Erwin
(Extracts from "Footprints', Williamson County Historical Society; Volume 5, #2, 2002, by Helen Lind)