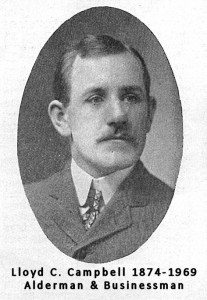 Lloyd Cregg Campbell, city alderman, businessman, banker and civic leader, was born in Marion, Illinois on October 16, 1874. He was the son of J.M. Campbell, grocer, and Mollie Eubanks Campbell. The father was born in Kentucky from which he came to Marion when a boy and married. L. C. Campbell was the first child of three.
The 1880 census captured the Campbell family living in Marion. Lloyd was 6 years old and had one sibling, a brother, W. H., who was 8 months old. Lloyd's father, J.M. was 30 years old and working as an office clerk, his mother, M.L., was 28. There was an 81 year old female named M.E. Askew living with the family.
Lloyd's early education and training was in Marion schools and he was a graduate of the Marion Township High School class of 1892. After graduation, entered the general merchandise store of Burkhart & Binkley where he sold goods for two months. He then entered the First National Bank, on the square in Marion, as bookkeeper in September, 1892, where he acquitted himself so well that after three years he was elected assistant cashier.
On July 12, 1897, he married Miss Nettie House, the daughter of C.H. House, who for some years was in the employ of Burkhart & Binkley as well.
In April of 1899, Lloyd was elected Marion alderman and served two years (1899 – 1900) under Mayor T.J. Youngblood. He was elected a third time in 1901 under Mayor William H. Bundy, the same year in which Marion adapted a ward system.
When the 1900 federal census was taken, Lloyd 25 and Nettie 30, appear to have been living a few blocks northeast of the square. No addresses were given in this census, but Martin L. Baker of Duncan-Baker Hardware store who lived at 204 N. Buchanan Street was listed near them. His occupation given on the census was assistant cashier, but he was also serving as Marion Alderman at the time and most likely represented Ward 4 in which he lived.
In May of 1903, the Marion Pressed Brick Company was incorporated. It was organized by Chas. A. Gent, J. C. Mitchell and S.R. Fuller, commissioners, with $25,000 capital stock. The original stockholders were, besides the above named gentlemen, Adele Holland, W.H. Warder, E.N. Rice, Lloyd C. Campbell, A.L. Cline, John H. Duncan and M.L. Baker. Its officers, appointed in June 1904, were Albert L. Cline, president; J.C. Mitchell, vice president; Lloyd C. Campbell, secretary and treasurer; J.R. Lamport, superintendent of works.
The plant consisted of 40 acres of the very best of brick clay land, lying level at the northwest crossing of the Coal Belt and the Illinois Central railroads, and had a switch track to both. This was located to the west, just off North Carbon Street, on the north side of the railroad track, their slurry pond used to sit pretty much where the PermaTreat lumber business is located today in 2014.
In June, 1904, The Leader Printing Office was incorporated with a capital stock of eight thousand dollars, incorporators being Arthur Roberts, T. M. Mitchell, John H. Duncan, O. H. Burnett, Oliver J. Page, Lloyd C. Campbell, J. F. Throgmorton, John M. Dodd, J. B. Bundy, F. T. Joyner, Leonard Colp, W. T. Felts, John H. Duncan was elected President of the Company; O. H. Burnett, Vice President, and Lloyd C. Campbell, Secretary and Treasurer. Arthur Roberts was chosen as editor and publisher.
The Leader printing office would later be sold to the Paisley family in 1913 and become the Marion Daily Republican.
In the 1905 Souvenir History of Williamson County, Campbell was described thusly, "Mr. Campbell is an active worker in the Christian field, is a member of the M.E. Church (First Methodist) and Superintendent of its Sunday school. He rightly regards the religion of Christ as the most potent influence for good in the world and sees no reason to discard or even neglect the best and most efficient instrument for one of less power for usefulness. Having a good, sharp steel sword, he has no desire to change it for a wooden one. Hence, his labors and all his influence in all reformative work or for the benefit or up building of his fellow men are and must be distinctively Christian, and that simply because he being a Christian, desires that what little good he can do in the world shall be for the honor of the Christian name and principles and to none other whatever. Let others use a wooden sword if they have none belter, but he has The "Sword of the Spirit, which is the word of God. "Mr. Campbell is republican in politics, but not an active politician."
A 1907 Marion city directory confirms Lloyd and Nettie as living at 302 E. Jackson Street.
In the 1910 census, Lloyd 35 and Nettie 40 were listed as living in Marion Ward 4 at 302 N. Buchanan Street which I am pretty sure is a mistake and should be 302 E. Jackson Street. This is most likely the same location as the 1900 census. Lloyd was still listed as a bank cashier, so he was still working at the First National Bank on the square. They now also owned their home mortgage free.
In September of 1918, Lloyd was required to register for the WWI draft at the local draft board located at 201 ½ Public Square in Marion. He listed an address at 302 E. Jackson Street. He claimed to be 43 years old and was listed as having a medium build and medium height with blue eyes and dark hair.
When the 1920 census was taken, the Campbell's had left their home at 302 and moved into a home that they were renting at 307 N. Buchanan Street. Lloyd who was then 45 was serving as Vice President of the bank. Nettie was 50 years old.
A 1922 Marion directory listed Campbell as living at 208 S. Market Street; this is later confirmed in the 1930 census.
The Lion's Club of Marion was chartered on April 24, 1923 and was organized by Warren A. Chilcote. The new club had forty members and met at the Marion Garage Tuesdays at 8:00 P.M. Lloyd C. Campbell is listed as one its charter members. He became an active member and served as the club's Secretary-Treasurer in 1926-27.
Lloyd's father, J.M. Campbell, died on November 15, 1923 of complications from pneumonia after being hit by a car. He lived at 622 E. Main Street in Marion.
The 1930 census found the couple living in a home that they owned at 208 S. Market Street. This census was taken on April 9th and indicated that Lloyd was then back to being a cashier at the bank. A directory from 1928-29 indicated that he held both the position of Vice President and Cashier. It is somewhat irrelevant, however, because with the depression starting, the First National Bank failed to open on December 1, 1930.
In the last census available which was 1940, Lloyd 65 and Nettie 70, were still in their S. Market home which they valued then at $5,000. Lloyd had become self-employed and was selling insurance. He claimed to have worked 50 weeks out of the year in 1939 and earned $1,200 in that year.
Lloyd's wife, Nettie, died on February 13, 1963 and Lloyd C. Campbell passed away on April 8, 1969 in Lawrenceville, Illinois. Both are buried in Rose Hill Cemetery in Marion, Illinois. The couple doesn't appear to have had any children.
(Extracted from the 1905 Souvenir History of Williamson County; Federal Census Records; Social Security Death Records; Marion City Cemetery Records; WWI Draft Registration; Marion city directories; compiled by Sam Lattuca on 07/14/2014)