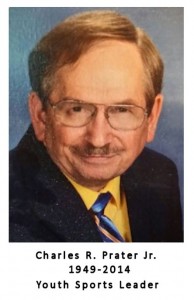 Charles R. Prater, Jr., active youth sports and civic leader, was born on January 3, 1949 in Pontiac, Michigan, the son of Charles R. Prater Sr. and Marcella (Gutek) Prater.
Early in the 1950's, the Prater family moved to Marion and later purchased a home at 419 Charlotte Road. Charles' father managed Sherman's Department store on the square in Marion, while Charles Jr. attended Catholic seminary in his youth.
Charles was active in the Marion Jaycees, holding several local offices and participating in numerous community service projects held by the club in the 1970's and 1980's.  He was also a member of the Jaycees International Senate and served as the Nation Director of Jaycees of Illinois during that period.
He was an avid sportsman and supporter of many local youth teams. He coached St. Joseph's church league basketball for many years and, alongside Leo Dingrando, helped found and coach Swamp Fox track and field. He coached little league baseball for many years as well as announcing and umpiring and was a member of the Marion High School and SIU sideline crew.
Charlie announced games for almost all teams in Marion and dedicated his life to the youth of Marion.
Charlie was a dedicated member of the St. Joseph Catholic Church and a member of the Knights of Columbus where he reached the title of Fourth Degree. He was a very loving and giving person to everybody he met.
Charles' father passed away on Sept. 11, 1992 and his mother, Marcella, passed away on February 17, 2008. After his parents death, Charles Jr. continued living in the family home.
Charles passed away at 9:30 P.M. Thursday, July 17, 2014 at his home at the age of 65.
Survivors include his nephews, Cameron Wright and wife, Elissa, of Marion and Christopher M. Wright and wife, Janna, of Marion; nieces, Jennifer M. Sauerbrunn and her husband, Mark of Lenexa, Kansas; and Kimberly Meade and husband, Brian, of Marion; brother-in-law, Thomas Mike Wright of Marion; two aunts, Betty Prater of Pana, and Mary Prater of Pana; cousin, Mary Meadows of Streator; and great-nephews, Braxton Wright, Devyn Wright and Bria Wright of Marion.
He was preceded in death by his parents and sister, Patricia Wright.
Visitation was held on July 21, 2014 at Mitchell-Hughes Funeral Home and funeral services were held at 10 A.M. Tuesday, July 22nd, in St. Joseph's Catholic Church in Marion with Monsignor Thomas Flach officiating. Burial followed in Rose Hill Cemetery.