Dr. John W. Vick was born on March 6, 1849 in Russellville, Logan County, Kentucky, to Samuel S. Vick (1827-1916) and Martha J. Newton (1827-1906). When John was only 2 years old, in 1851, his father and grandfather's families all moved to Williamson County.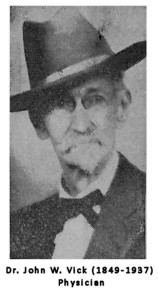 John's father, Samuel S. Vick, was active in Williamson County's political field during the year's precedent and subsequent to the Civil war. He was an overseer of slaves in Kentucky, as were several of his brothers, and he is said to have left the South because "a negro was considered of more value or consequence than a white man." He was brought up a Democrat and remained with that party in the face of its embarrassments of the period of the war. He was first chosen constable of his precinct of Williamson County and was subsequently appointed deputy sheriff and then city police judge of Marion. In 1868 he was appointed master in chancery and was next elected justice of the peace. In 1865 he took the third census of the county. Samuel S. Vick was active in the Williamson County Agricultural Society that handled the county fair and was vital to the M.E. Church South, later to become Aldersgate Church. He also became a leading citizen of Marion by establishing one of the early drug store businesses on the square.
John Vick enjoyed the distinction of being the only person who had attended every Williamson County fair since its inception in 1856 and served as an official of the fair association for many years in later life. Dr. Vick was also the last person known to have attended the first Memorial Day sponsored by General John A. Logan at Carbondale in 1864.
As a boy, he know General Logan and Robert Ingersol. He remembered Ingersol, the agnostic, as the omnivorous reader whom the doctor when a small boy often saw sitting on a bench absorbed in a book as the boy walked to school.
He enjoyed telling the story of his boyhood visit to the first Williamson County fair 81 years ago when a booth where a vendor was selling cider and ginger bread claimed the total of 25 cents which he had saved to spend at the fair. In the early days, the prizes were merchandise offered by Marion merchants instead of cash and people who were able to ride to and from the fair in a horse and buggy were sissified. Most of them attended in a wagon or else walked to and from the Fair.
In the 1860 census, the Vick family was living in the Marion School District. John was 11 years old and had six siblings including his sister Mary Alice who would later marry John Cline, another leading Marion citizen who would learn the drug business from his father-in-law and establish the long standing Cline drug store which stood on the east side of the square in Marion for decades, before becoming a Cline-Vick drug store.
John W. Vick was reared in Marion and obtained his literary education in the schools of Marion and began the study of medicine while serving as a drug clerk in that city, most likely in his own father's business. When the 1870 census was taken, John, 21, was living alone in Township 9, Range 2, which in those days was called Bainbridge Township. The township centered on the now non-existent Bainbridge village located at the intersection of Bainbridge Trail west of Marion and old route 13 (W. Main Street). His occupation was listed as a clerk in a drug store.
In 1869 at an "apple cutting" held in Marion, Dr. Vick, who had not then completed his studies for the practice of medicine met Miss Mary A. "Mollie" Snyder, of Carbondale, who was visiting relatives in Marion. On May 8, 1872, they were married and on May 8, 1937 observed their 65th wedding anniversary. Mary Snyder (Snider) was a daughter of the successful farmer and stockman, Ephraim Snider, who was a Southern man. Mr. Snider married a daughter of David Herrin, of Herrin's Prairie
John Vick served an apprenticeship in Marion with Dr. Augustus N. Lodge and when ready for college entered the Missouri Medical College, now a part of the Washington University, of St. Louis. After a time he decided to engage in practice, secured a license from the proper board in Illinois and located in Marion, then in Carterville, and did not return to complete a medical course in school for nearly twenty years.
On May 16, 1873, one year after John and Mary's marriage, their first child was born, Calla Lilly Vick. This was reflected in the 1880 census which found the couple living in Marion. John was a 30 year old practicing physician while Mary was listed as a 25 year old homemaker along with daughter Calla, age 8.
He practiced his medicine in Marion several years before going in 1882 to Carterville where he lived during most of his long career as a physician.  He then attended Vanderbilt University at Nashville and graduated there in 1894.
John Vick moved to Carterville in time to plant the first shade trees set out on the town site, and to take an interest in all that pertained to the making of a new substantial town. He was president of the school board for twenty years, of the board of health for a like period and is one of the early members of the Williamson County Medical Society and its president for several years. He was a member of the Illinois State and Southern Illinois Medical Associations, and served as president of the Carterville Building and Loan Association since its organization.
When the 1900 federal census rolled around, John 51 and Mary 45, were established in Carterville with his civic involvement and medical practice and had four children. Their first daughter Calla, now 17 or 18 was out of the home, leaving the following children at home, Snyder S. Vick, aged 18, born in 1881; Kate H. Vick, aged 10, born in 1889 and John W. "Jay" Vick, Jr., aged 9, and born in 1891. The couple owned their own home and they employed a 20 year old domestic servant named Daisy Phillips.
The 1910 census found the couple 10 years older, still living in Carterville. Their son, Snyder, now 18, had moved on with his life, leaving daughter Kate, now 20 and teaching public school in Carterville and their youngest son Jay, aged 18.
Their son Jay Vick, after attending school, entered the drug business like his grandfather S.S. Vick and established a drug store in Carterville. In 1913, he married Edna Kimbro and had two children. Edna died in 1917, leaving Jay a widower.
These events are partially reflected in the 1920 federal census which found Dr. Vick and his wife living at 303 Mulberry Street in Carterville. Dr. John Vick was then 70 years old and still practicing medicine in Carterville. Living with the couple were their daughter Kate, now 30 and still teaching public school and their widowed son, Jay Vick, 28, druggist, and one of his 5 year old daughters.
By the 1930 census, the couple had moved once again to a home on Nevada Ave. in Carterville which they owned free of mortgage and valued at $2,000. John was listed as 81 years of age and Mary as 75.
Having retired from active practice around 1934 at the age of 85, he returned to Marion to make his home at 407 S. Van Buren Street.
In 1936, the Marion Daily Republican published an article around the time of the Williamson County Fair recounting John's experience of the fair. "Dr. Vick, who has not missed a Williamson County fair since it started in 1856 planned to attend the fair this year (1936). For years, Dr. Vick divided honors with William Hayton, as the only two who have never missed a Fair, but Hayton died two years ago and last year he alone received the ovation of the crowd in the grandstand, when asked to stand by the announcer. The beautiful fair grounds, especially the inner field with its white washed tree trunks are a source of gratification to Dr. Vick, who had seen them grow from little trees. He remembers going with his father to the fair grounds and trudging thru underbrush so thick you could hardly get thru, and marking trees to be cut down in a clearing a space for the first quarter mile track. This track was later enlarged to its present size."
Snider S. Vick, son of Dr. Vick, died suddenly in February 1937 of acute indigestion in Marion. He was an officer in this Fair for years and one of its most active workers. His interest came from his father and his grandfather.
Dr. John W. Vick, retired physician and one of the county's oldest and most widely known citizen, died in his sleep at his home at 407 S. Van Buren Street at 7:15 A.M., Friday, June 25, 1937.
Death was attributed to heart disease and complications. Remarkably active until recently in spite of his age, Dr. Vick who was 88 years old, had been ill only a week. He was up the previous Thursday, however, and enjoyed Thanksgiving Day visits by a number of relatives and friends.
Possessed of an unusually active mind for his age, and retaining a keen sense of humor, Dr. Vick was loved by many who knew him in his later years for his reminiscences of early years in his life.
The following information was taken from his 1937 obituary in the Marion paper. "Surviving Dr. Vick are his widow, one son, Jay Vick, Carbondale druggist, two daughters, Mrs. M.D. Colp of Carterville, and Mrs. Herbert Russell of Indianapolis. One brother, Joe Vick, of Carterville, and one sister, Mrs. Alice Cline of Marion, also survive.
Edwin Vick is a nephew and Miss Mary Elizabeth Vick of Marion a niece of the deceased.
Funeral services for the veteran physician will be held Sunday afternoon at the Methodist Church at Carterville with interment in Oakwood Cemetery at Carterville."
The following notes were taken from "History of Southern Illinois" Dr. and Mrs. Vick have had the following children: Callie L., the wife of Monroe Colp, of Carterville, Illinois; Samuel Snider, who is engaged in the drug business in Carterville, married Grace Davis and has a daughter, Mary Elizabeth; Miss Kate H., a teacher in the Carterville schools; and John W., now a student in pharmacy in the Northwestern University, Chicago.
(Sources: 1905 Souvenir History of Williamson County, Marion Daily Republican 1936-37, Carbondale Free Press, Federal Census Records, Ancestry.com, Illinois Death Records, History of Southern Illinois, compiled by Sam Lattuca 12/23/2014)
Notes on the children:
Calla Lily Vick, born May 16, 1873, died July 4, 1943 in Carbondale, Illinois. Married Monroe D. Colp of Carterville on June 10, 1896. They had children, Ryburn R. Colp (1897–1980) and Virginia Nellie Colp (1898–1966). Burial in Oakwood Cemetery, Carterville.
Snyder S. Vick, born August 11, 1881 in Marion, died February 11, 1937 in Marion, Illinois of acute indigestion. He married Grace D. Davis (1882–1957) around 1908. They had two children, Mary Elizabeth Vick (1909 –XXXX) and Edwin Hastie Vick (1915 – 1991). Snyder served as secretary of the state fair association.  When John Cline (Marion druggist) retired in 1920, two years before his death, he sold out his business to his son Leo V. Cline of Herrin and his nephew Snyder S. Vick of Johnston City. The younger Cline and Vick had already formed the Cline-Vick drug stores in 1918. For details see the post, Cline-Vick Drug Store.
Kate H. Vick Russell, born November 14, 1889 in Carterville, died February 2, 1964, married Herbert Russell on December 22, 1929. Served as public school teacher in the Carterville public schools.
John William "Jay" Vick, born May 5, 1891 in Carterville and died February 21, 1966 in Clearwater, Florida. Married Edna Kimbo (1891-1917) in 1913, two children, June K. Vick (1914-1942) and Betty Lou Vick (1916-1990). In 1920, Vick remarried to Clara Belle Waldron (1898-1990). Jay Vick, owned a drug store at Carterville he had purchased in 1904. See the post Cline-Vick Drug Store on this site.